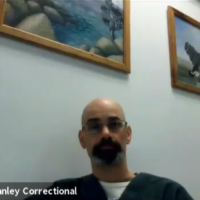 A Fond du Lac County man will serve an additional four years in prison after pleading guilty to charges from an attempted bank robbery in Janesville.
40-year-old Daniel Landis of Brandon was accused of unsuccessfully trying to open the cash drawers behind the counter at Wisconsin River Bank on North Parker Drive in January of 2019.
He fled the bank and police at high speeds on a motorcycle through downtown Janesville and into the Fourth Ward neighborhood, where he was caught and arrested.
Landis pleaded guilty to a felony charge of second-degree recklessly endangering safety stemming from the high-speed chase. As part of a plea agreement, charges of attempted theft from a financial institution, fleeing police, disorderly conduct and obstructing an officer were all dismissed but read into record.
Rock County Judge Barbara McCrory sentenced him Monday to four years of prison time followed by four years of extended supervision, which he will serve consecutively to prison time he is currently serving from a previous conviction for a bank robbery in Vernon County.
Assistant District Attorney Gerald Urbik said Landis had been out of prison on extended supervision for around three months when he attempted the bank robbery in Janesville.