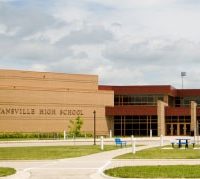 Another school board discussion yields the same results for the Evansville Community School District: no winter athletics or co-curricular activities.
The board's motion to allow winter athletics with COVID protocols failed by a 4-3 vote Wednesday night.
District administrators shared how coaches would handle coronavirus safety precautions for basketball and wrestling, including practices, travel schedules and match strategy.
The school board heard nearly 90 minutes of public comments both in support of and opposed to allowing winter athletics.
At its meeting last week, the board already decided against winter sports, but the district brought back a recommendation to allow the activities with a more in-depth presentation on their mitigation strategy.
The school board was complimentary of how well the district has done to prevent the spread of COVID-19 within its schools, but some board members did not want to jeopardize in-person learning by increasing the risk of coronavirus through athletic competitions.
They also shared concerns of students spreading COVID-19 to other community members who had no control over the situation.