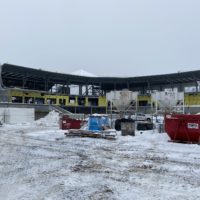 The Miami Marlins get an up-close look at the future home of their minor league baseball team in Beloit.
Director of Minor League Operations Geoff DeGroot toured the construction site of the downtown stadium project Wednesday morning.
He said the facility will be state-of-the-art, and he's excited to have Beloit as the Marlins' Advanced-A affiliate.
"It was really clear that they're looking to do what's in the best interest of our players as well," DeGroot said. "They're just people that do the right thing."
The major league team is working with the Snappers' leadership on constructing the field to match the surface and general dimensions of the Marlins' field in Miami so players won't have as much adjustment as they move between levels.
"The goal is for our players to be playing in Miami," DeGroot said. "The longer that they're playing in dimensions and surfaces that are similar to that, the more comfortable they're going to be when they end up in Miami."
DeGroot emphasized the Marlins' philosophy of developing talent through the minor league system, and he thinks some quality prospects will take the field in Beloit this season.
The new stadium is not scheduled to be finished until the summer, so the Snappers will start the 2021 season at the existing Pohlman Field and transition to ABC Supply Stadium when it is ready.