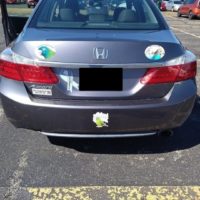 Milton Police are investigating the report of a carjacking.
According to a news release, officers were dispatched to the Kwik Trip on West Madison Avenue just before 4:30 Tuesday afternoon.
The victim reported that she had just finished pumping gas when a suspect came between her and the driver's door with something up to his chest that could have been a small weapon.
The suspect ordered the victim to get back before jumping in the driver's seat and taking off.
The suspect is described as a Hispanic or Asian man who is about five feet, nine inches tall and 160 pounds with dark chin-length straight hair with bangs.
The vehicle is described as a gray Honda Accord with several parrot bumper stickers on it.