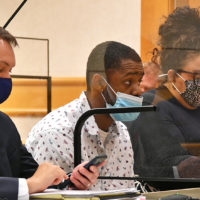 A Beloit man avoids a homicide trial for the death of his infant son.
35-year-old Deanthony Hodges was scheduled to begin a jury trial Monday for a felony charge of first-degree reckless homicide, but his attorneys reached a plea agreement with prosecutors.
Hodges instead pleaded guilty to a reduced charge of child neglect resulting in death and felony bail jumping.
He was accused of causing the injuries that led to the death of 7-week-old Amanii Hodges in March of 2017. Court records included medical testimony that the child suffered head trauma consistent with being shaken or slammed.
As part of the plea agreement, attorneys on both sides will be free to argue any length of prison time or probation at Hodges' sentencing hearing on August 6.
The child's mother, 33-year-old Jessica Nelson, has also been charged since 2017 with child neglect causing death, along with 18 separate counts of bail jumping.