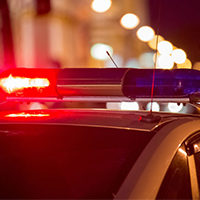 The Rock County Sheriff's Office is releasing more information about a suspect arrested Tuesday evening in connection with a crime spree that included four stolen vehicles and a armed home invasion.
Deputies were first dispatched to a hit-and run on Highway 140 in the town of Bradford shortly before 4:30 Tuesday afternoon. The suspect vehicle had been reported stolen out of Genoa City.
Around two hours later, the Sheriff's Office responded to another hit-and-run crash in the Town of Newark, where the suspect fled in a Good Samaritan's vehicle.
At the same time, deputies learned that the suspect had gone to a home in the town of Magnolia and used a shotgun to blow the lock off the door before assaulting the occupants and stealing their vehicle. It was the same vehicle that was used in the hit and run in the town of Newark. Deputies also recovered another stolen vehicle that came from a second home that was burglarized in the town of Magnolia.
The Good Samaritan's stolen vehicle was later found crashed in a ditch in Winnebago County, where sheriff's deputies located and arrested 32-year-old Bryan R. Burns of Roscoe in a nearby field.
Burns faces an initial charge of robbery while armed and more charges are expected at the conclusion of the investigation.