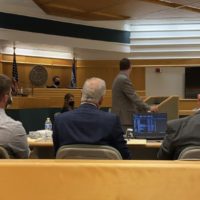 A jury trial is underway for a Fort Atkinson man accused of starting a fire at a Janesville duplex.
31-year-old Jacob Piper is charged with arson and five counts of attempted homicide for allegedly throwing a Molotov cocktail at the Franklin Street home in May of 2020.
In opening arguments Monday, assistant district attorney Gerald Urbik said witnesses saw Piper throw an incendiary device at the house, causing the fire to spread quickly with the intent to kill the occupants.
He also referenced physical evidence of Piper having fire-starting materials along with GPS tracking placing him at the crime scene.
Defense attorney Mark Eisenberg's response focused on the discrepancies between witness's stories to police and other possible causes of the fire at the house.
Witness testimony continues Tuesday with the trial expected to wrap up by Friday.