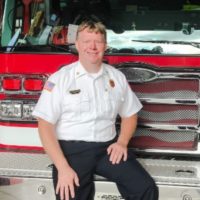 The deputy Janesville Fire chief who has filled-in as interim chief twice in the last five years is official appointed to the position of fire chief.
Fire Chief James Ponkauskas joined the Janesville Fire Department in 1994 as a Firefighter/Paramedic. During his service with JFD, he has held the positions of Paramedic, Motor Pump Operator, Lieutenant, Acting Captain, Shift Commander, and Deputy Fire Chief.
Fire Chief Ponkauskas holds an Associate's Degree in Fire Science from Blackhawk Technical College. He is currently studying for a Bachelor's Degree in Fire and Emergency Response Management from the University of Wisconsin-Oshkosh.
Former fire chief Ernie Rhodes resigned in July to take a job in Missouri.
Ponkauskas starts his new duties immediately.