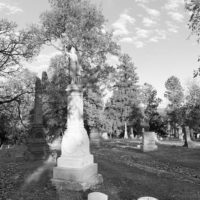 Participants of this year's Oak Hill Cemetery tours, sponsored by the Rock County Historical Society, will discover the stories behind eleven local people from the past who were commemorated with buildings and roads named after them. Historical interpreters will share the stories, researched by local history experts. All tours are outdoors at the cemetery, 1725 N. Washington St., Janesville.
"RCHS is happy to offer these popular tours of Oak Hill cemetery again this year, with new historical information about some of the county's most well-known people who are buried there," said RCHS Executive Director Tim Maahs. "The tours are a safe way for people to have fun while learning the intriguing history about people who made an impact in Rock County."
Just a few of the tour's eleven fascinating past residents highlighted in this year's tours include:
Thomas Ruger and his three sons. Thomas relocated to Janesville in 1844, serving the Episcopal Church, and later became the director of the Janesville Free Academy. Ruger Avenue in Janesville is named in his honor.
General George Randall, whose rich military career spanned more than 40 years and several countries. Randall Avenue in Janesville is named after George Randall, who was a promoter of peace throughout his adult life. In 1944, a troop carrier ship was named after him.
Tickets for each tour are $10 and available for purchase on the RCHS website at www.rchs.us/events/ or by calling RCHS at 608-756-4509. Tickets may also be purchased at the cemetery during tour hours. Tour dates and times are: October 27, 28, and 29: 4 – 6 p.m. and October 30: 1 – 4 p.m.
Tours are educational in nature and are not a "haunted" experience. Oak Hill is a working cemetery. For the Chill at Oak Hill tours, all headstones, mausoleums, and burial plots must be treated with respect.
Tours begin at the Oak Hill Chapel and will be held in all types of weather, unless there is lightning, in which case tours will be cancelled.