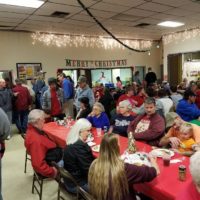 Organizers of the Orfordville Children's Christmas Benefit are looking forward to having an in-person event again this year.
Board Chair Brian Knudson says he got the idea more than two decades ago after noticing a need in the rural parts of the county.
The fundraiser, which includes a pork chop dinner and raffle will take place from 5:00 until 7:00 p.m. at the Orfordville American Legion.
Knudson says if you know anyone that needs a little help this holiday season, you can fill out a referral slip at the benefit on Saturday.