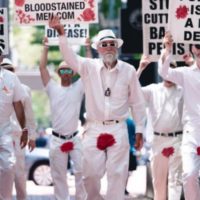 A non-profit dedicated to educating Americans about what it says are the harms of infant circumcision plans a peaceful protest in Janesville.
The Bloodstained Men & Their Friends plan to share their message from 10:00 a.m. until 12:30 p.m. at the intersection of Milton Avenue and Humes Road on Wednesday.
The protest in Janesville is part of a 20-day tour of the the Midwest which the group says has an extraordinarily high rate of circumcision of about 80 percent.