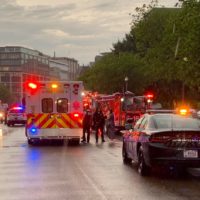 An elderly Janesville couple are dead after being struck by lightning while visiting the nation's capital.
Washington D.C. Fire and EMS said Thursday night that four people were hit by lightning at Layfayette Park, which is across the street from the White House.
Officials says the four were trying to take shelter from a thunderstorm under a tree when lightning struck.
76-year-old James Mueller died at the hospital Thursday night. 75-year-old Donna Mueller died early Friday morning.
Two others remain in critical condition.