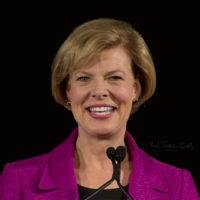 An annual gathering of a local legislator and area farmers will have a special guest this year.
The yearly agribusiness listening session of Wisconsin 43rd Assembly District Representative Don Vruwink of Milton will welcome Wisconsin U.S. Senator Tammy Baldwin to join in the discussion this Saturday morning.
The session will be an invitation-only event with local farmers at the Luke Goessling Farm in on West Walworth Road in Whitewater.
Vruwink says having Baldwin on hand will help the farmers understand what's being done federally about rising costs of business and supply chain issues.
He adds what he'll learn from Baldwin can be moved into his role on the State Assembly's Ag Committee.