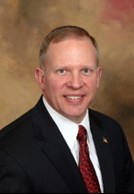 Janesville City Manager Mark Freitag is proud of the work he's done in his more than eight years on the job.
Freitag says in the first six months on the job he was able to establish a mission statement, vision statement, organizational values, and a strategic plan.
Freitag says some of the highlights of his tenure include the downtown revitalization, the road program, and financially fixing the storm water utility and water utility as well as the sanitation fund.
Freitag started his job in Janesville in December of 2013. He departs to take the City Manager job in Westminster, Colorado next month.