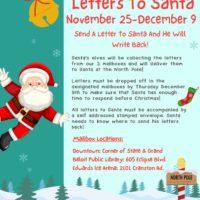 Local children sending their annual letter to Santa Claus can save on a stamp this year.
Beloit Director of Strategic Communications Sarah Lock says special mailboxes are located in downtown Beloit, the Beloit Public Library, and Edwards Ice Arena.
Lock says letters to Santa must include a self-addressed stamped envelope in order to receive a reply.
Letters can be left in the mailboxes from November 25th until December 9th.