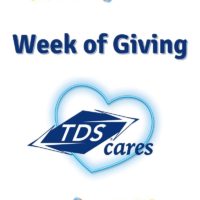 A local high-speed Internet provider kicks off it's annual Week of Giving.
TDS Telecommunications Associate Manager of Field Marketing Kerri Harold says themed events include Giving Tuesday, Wellness Wednesday, Thankful Thursday, and Food Pantry Friday.
The Janesville office will be donating $750 to the Janesville Performing Arts Center on Tuesday, feminine hygiene products and diapers to the YWCA Rock County on Wednesday, treats and thank yous to the fire stations on Thursday, and volunteering at ECHO on Friday.
TDS is also sponsoring the trolley rides and fireworks at Jolly Jingle this weekend.