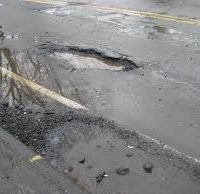 As Winter turns to Spring and the sun begins to shine a little more, potholes become a bigger problem, and Janesville is asking residents to help identify them.
Operations Director Maggie Darr says potholes occur more this time of year because water that has expanded and frozen below the roadway surface during the Winter begins to thaw, creating voids in the pavement which become potholes.
Darr says if people notice a pothole they can call the operations division or visit the city's website and fill out a form, and they should be as specific as possible to help crews locate the pothole.
Janesville filled just under 7,000 potholes during 2022.