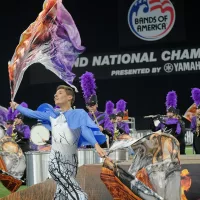 High school marching bands from Wisconsin, Illinois, Iowa, Missouri, and Minnesota descend on the UW-Whitewater campus Saturday.
Director of Marketing and Communications Mallory Duncan say Music for All's Bands of America competition is happening all day at Perkins Stadium.
Duncan says the doors will open at 11:45 a.m. and the first band takes the stage at 12:15 p.m.
There will be a special exhibition performance by the University of Wisconsin Warhawk Marching Band at 3:15 p.m.
Tickets are $22 and can be purchased on Music for All's website.