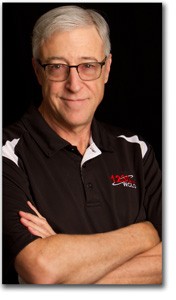 HOMETOWN: Born in Terry, Montana, started school in Minneapolis, moved to Beloit in 1958 and have lived there since then, except between 1975-77 when I attended Brown College in Minneapolis to obtain my Associates Degree in Radio Broadcasting.
HOW DID YOU GET STARTED IN RADIO?
I got a job as a disc jockey at WLUV AM/FM in Loves Park in 1977. Six months later I was working part time (weekends) at WCLO/WJVL. I also worked during the week, filling in for full time news reporters when they were sick or on vacation.
HOBBIES:
RPGs, MPGs, reading, and perpetually maintaining an historic home.
FAVORITE "CELEBRITY" ENCOUNTER:
Jammed with Cheap Trick in 1972 before they made it big, and played Summer Fest around 1973-74 and some guy playing a flat top, sitting on a bar stool opened for us. Found out later his name was Jimmy Buffett. Of course neither Buffett nor Cheap Trick were famous at that point…
WHAT WOULD YOU BE DOING IF YOU WEREN'T IN RADIO?
Tuning guitars for some rock band…
FAVORITE QUOTE:
"If you don't eat your meat, you can't have any pudding, how can you have any pudding if you don't eat your meat!"