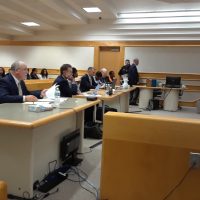 A Beloit teen has his felony hold open agreement revoked after violating his probation.
When 18-year-old Mar'Kai Payne pleaded guilty to two counts of second-degree sexual assault of a child last year, Rock County Judge John Wood withheld sentencing and placed him on probation for three years.
In September, Payne was charged in Milwaukee County Court with felony fleeing an officer, so this week Judge Wood revoked the felony hold open agreement and will sentence Payne for the sexual assault charges next month.
He was first charged in March of 2018 after a 15-year-old victim told police that Payne, Tre'roryon Floyd and Brandon Perry all sexually assaulted her at a home during their lunch period from Beloit Memorial High School.
In his Milwaukee County case, Payne is accused of leading police on a high-speed chase of over 100 miles per hour on the interstate.
Judge Wood also revoked his bond so he will remain in custody until his sentencing hearing scheduled for December 16.